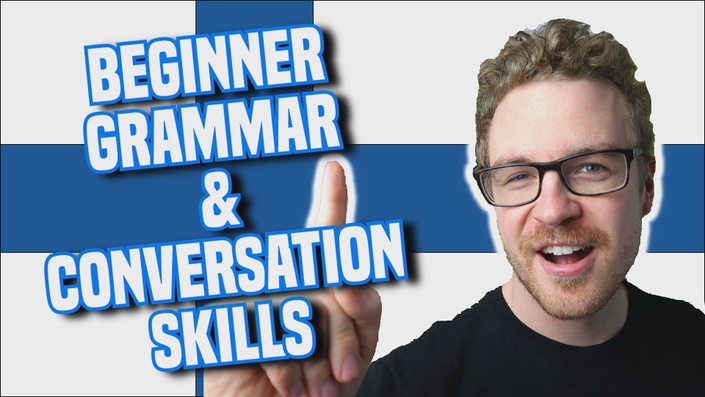 Basics of Spoken Finnish - Beginner Grammar & Conversational Skills
A course aimed for beginners who want go from words & sentences to creating interesting everyday conversations!
Are you frustrated as you noticed the Finnish language classes teach is different than the Finns are speaking?
Have you learned the basics but don't know how to make further progress?
Do you want to learn Finnish in a natural way to create everyday conversations without getting stuck at the grammar?
If you said "yes" to any of the questions above, this course is made for you.
There are tons of online resources for Finnish learners but for some reason, the spoken Finnish (= the variant of Finnish which is used in spoken situations) is very badly covered.
But look no more! I have taken the time to gather everything you need to take your Finnish skills to create useful everyday conversations!
Introducing the online course:
Basics of Spoken Finnish - Beginner Grammar & Conversational Skills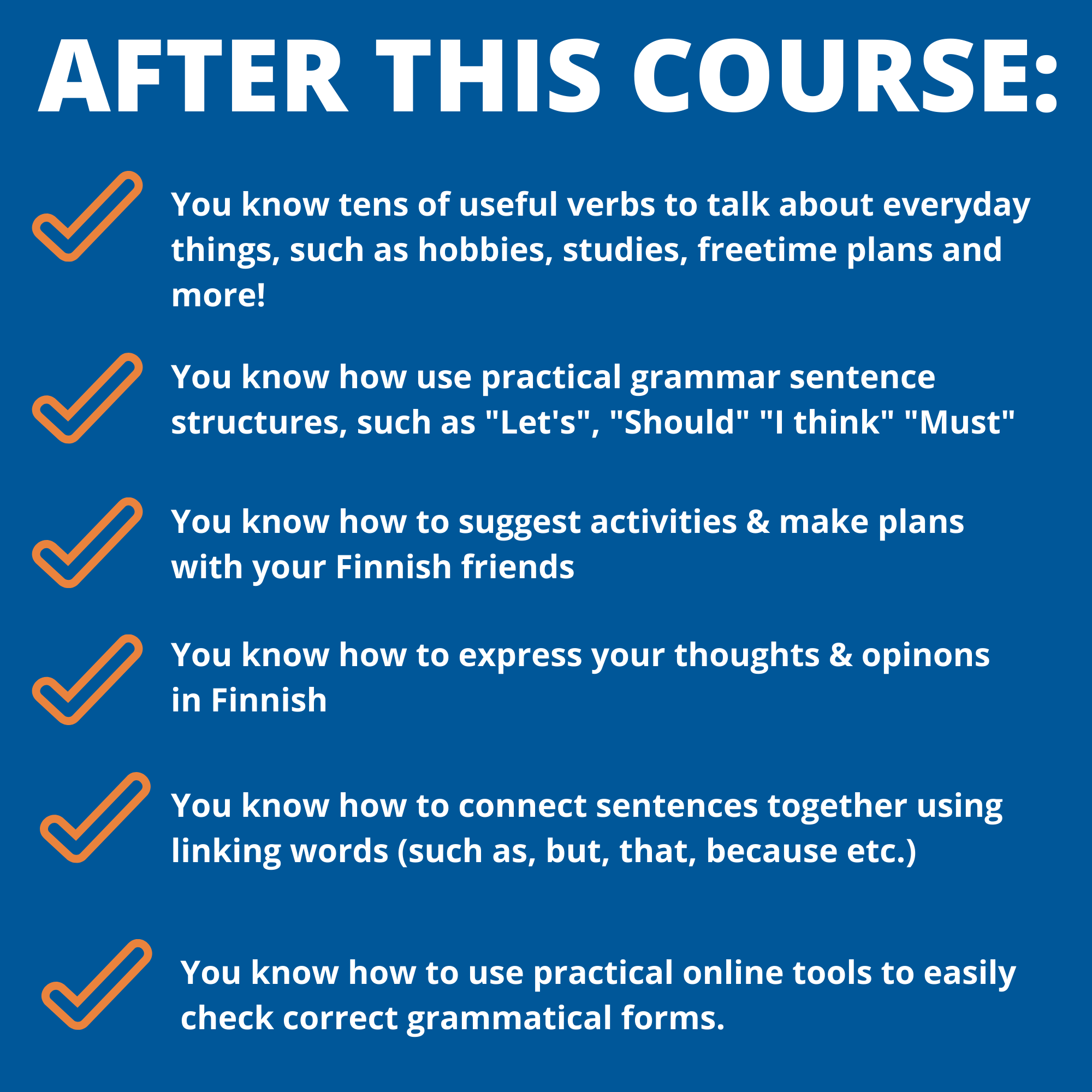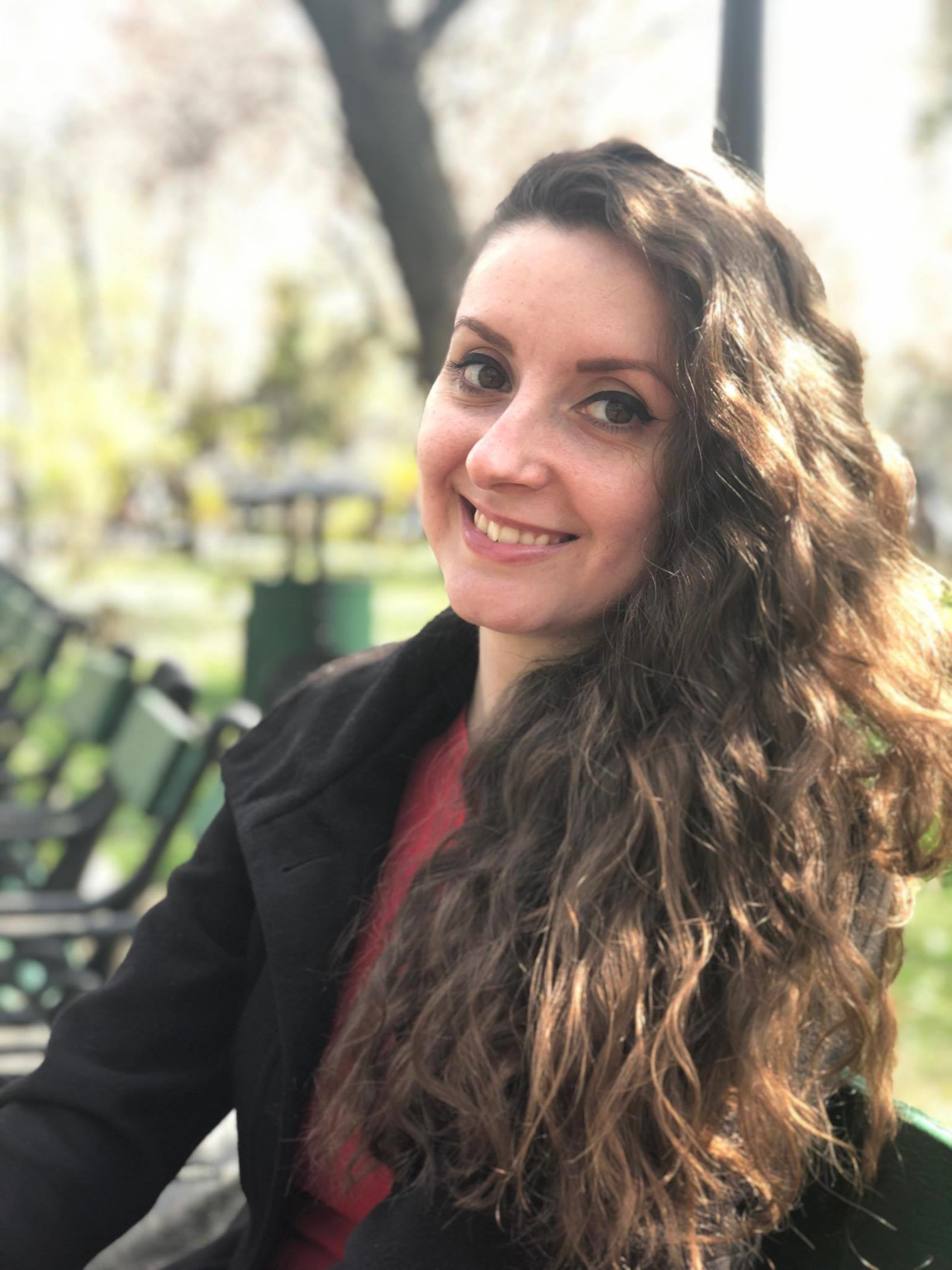 "This course is extremely useful and addresses one of the biggest struggles foreigners have when learning Finnish. Most books and online materials teach the standard language, so the shock when interacting with Finns in real-life situations is quite big. But Aleksi's course shows you exactly how the spoken language works and gives you great tips on how to sound more natural and to understand how the Finns think and express themselves. Plus, Aleksi's jokes and funny comments make this a very pleasant experience."
- Loredana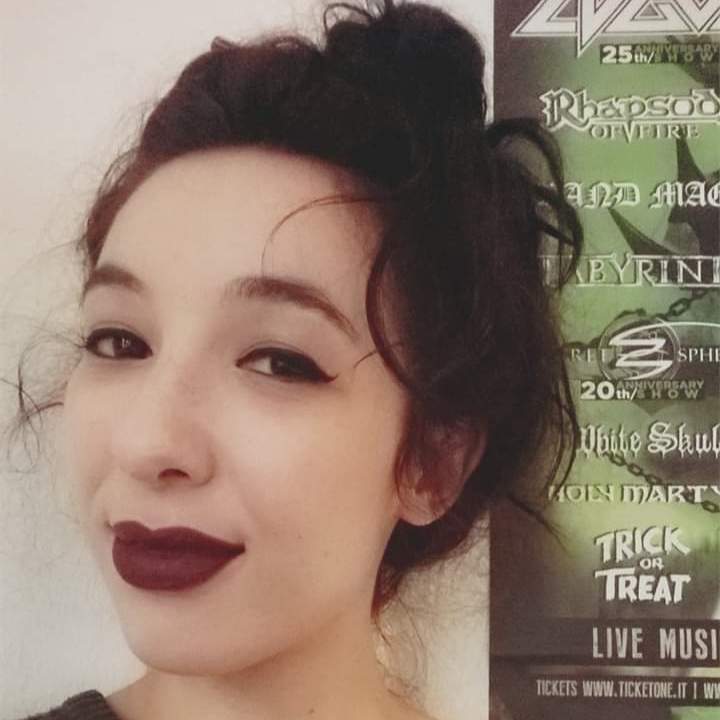 "If you, like me, have already spent endless hours on grammar books but still you struggle to say or understand more than "hei", "moi moi" and "kiitos" in a conversation, then this course is the easiest, quickest and funniest way to level up your speaking skills! Psssst, these contents are not covered in regular language courses 😉"
- Marta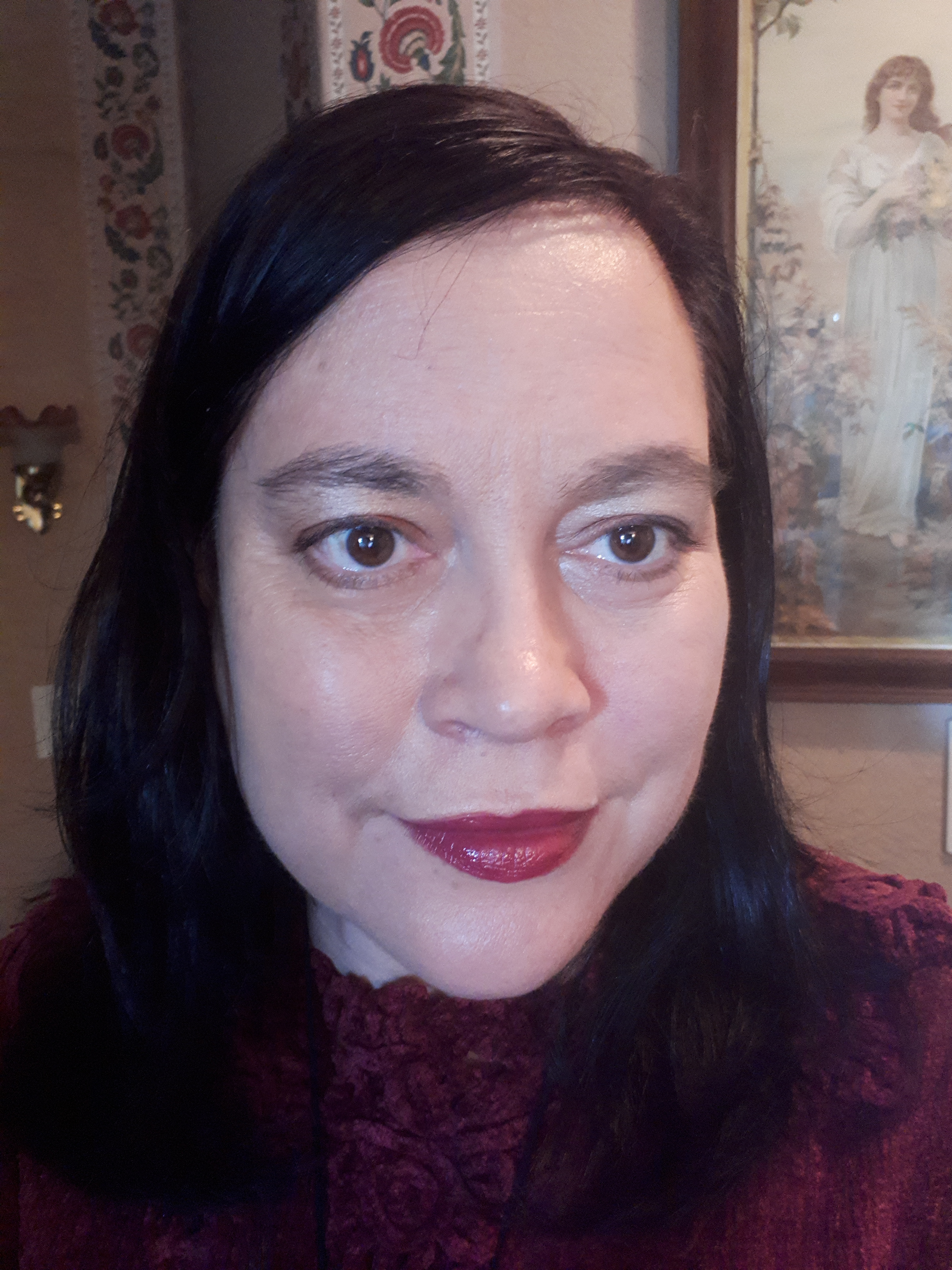 "This course is very well structured and wonderfully user friendly. Even an older person like me could easily navigate through it. The course helped me to relate Finnish words, verbs and tenses and to understand Finnish and not to just be a parrot but to understand what I speak."
- Zenobia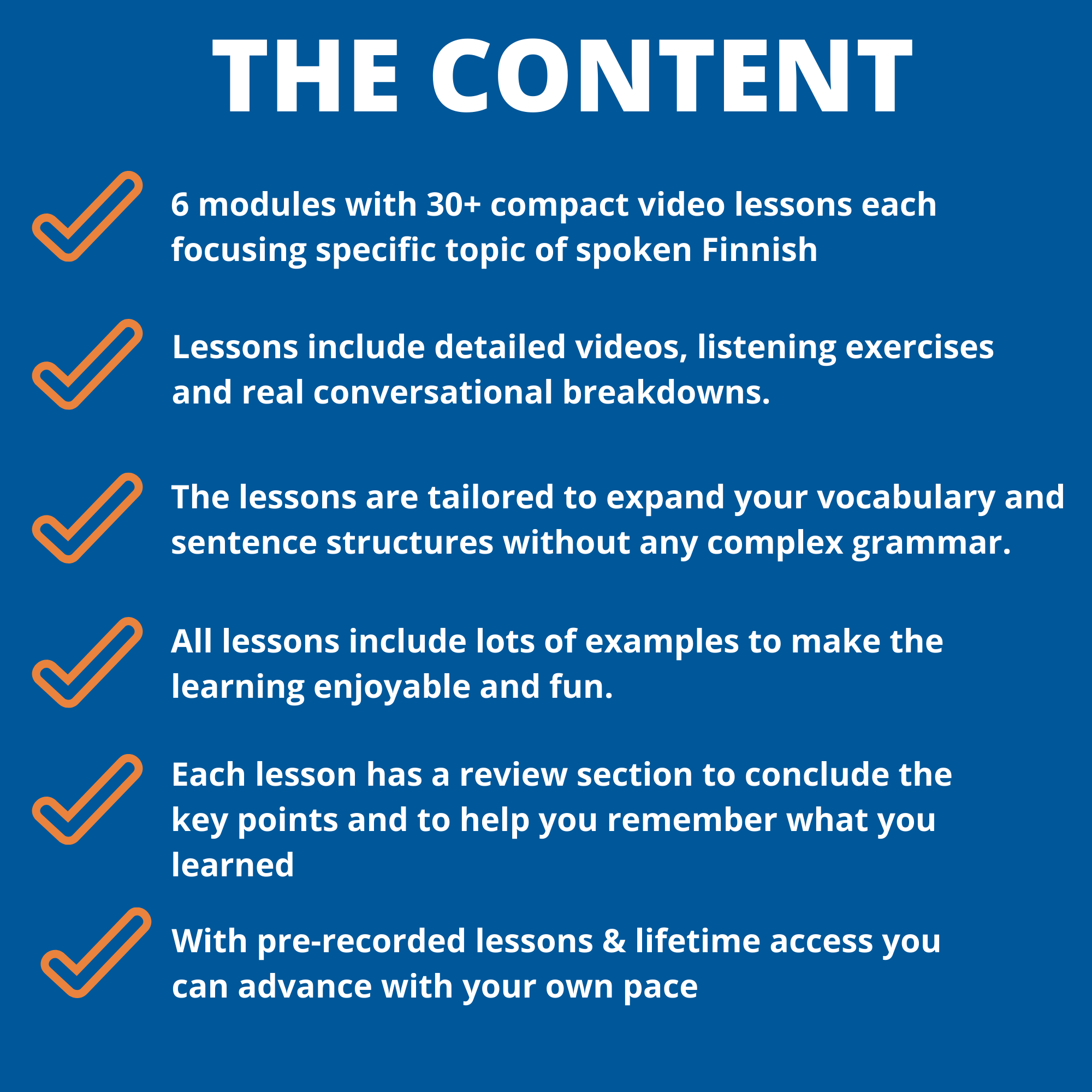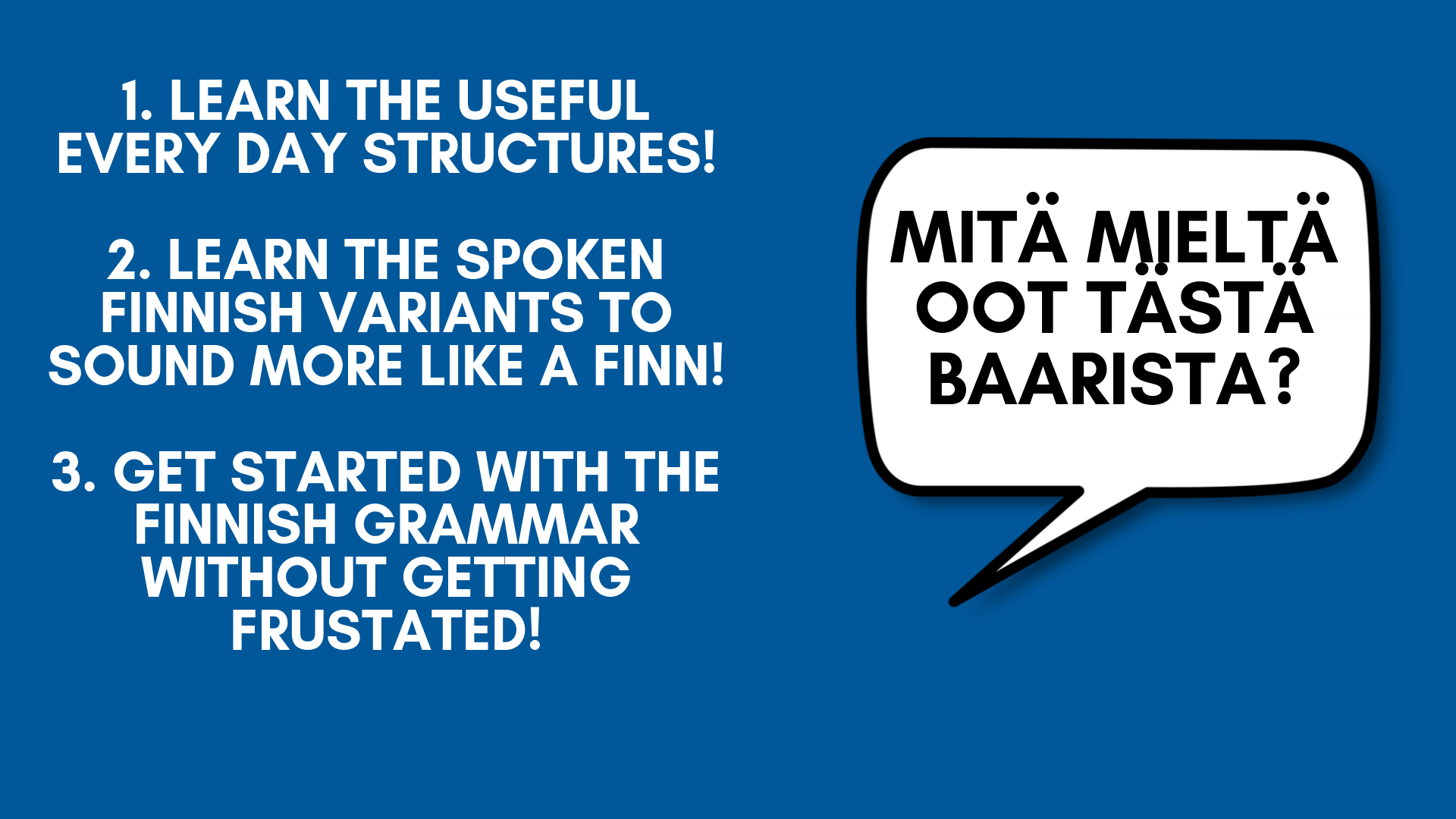 The course consists of 6 modules:
Module 0: Helpful Tools to Tackle the Finnish Cases

You will learn useful online tools you can use during your studies.
They help especially with the grammar and different case forms


Module 1: Useful Verbs & Discussion Topics


You will learn tens of practical verbs and how to use them in spoken Finnish
Includes everyday verbs such as "to eat", "to study" as well auxiliary verbs such as "voida" = can

Module 2: Useful Sentence Structures for Spoken Finnish

Learn super useful but easy sentence structures to expand your skills in conversations
Learn how to tell about things you should do using "pitäisi/täytyy"
Learn how to express your thoughts & opinions in Finnish with "mun mielestä"

Module 3: Learn how to Make Plans in Finnish

Learn to make suggestion using "Let's" structure
Learn how to talk about weekdays and time
Learn useful vocabulary to enrich your Finnish

Module 4 - Spoken Finnish Dialogues & Breakdown

Breakdown sentence by sentence of a real spoken Finnish conversations
Get better understanding how spoken Finnish is used
Improve your listening skills

Bonus Module

Includes your two free Bonus PDFs
Three additional sentence by sentence conversational breakdowns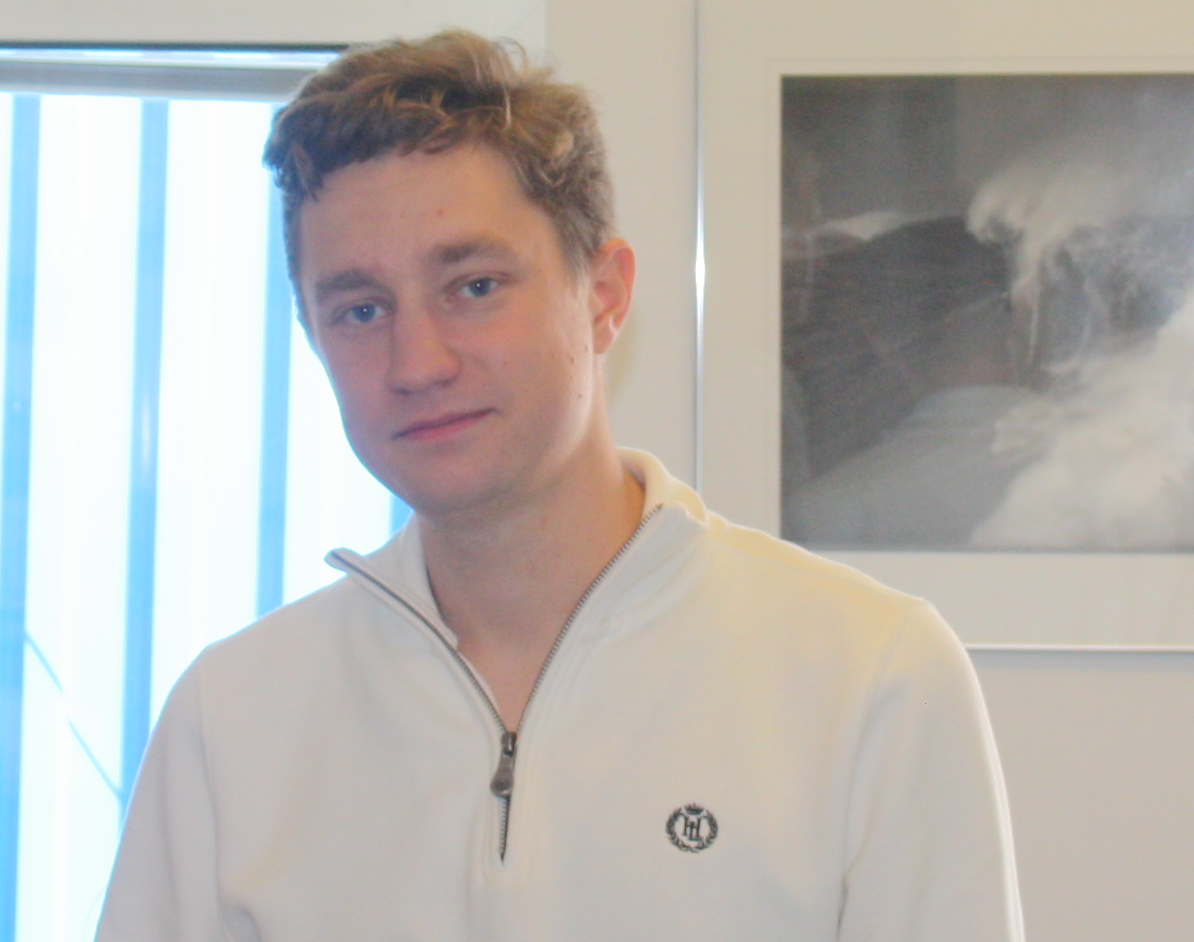 "Aleksi's two courses offer a great introduction to spoken Finnish even for complete beginners. You learn the most basic verbs, nouns and adjectives needed to have a simple everyday conversation in Finnish without too much focus on grammar and the whole case system. Aleksi is a great teacher and has sound linguistic and pedagogic skills, so you're in good hands during the course.
Christian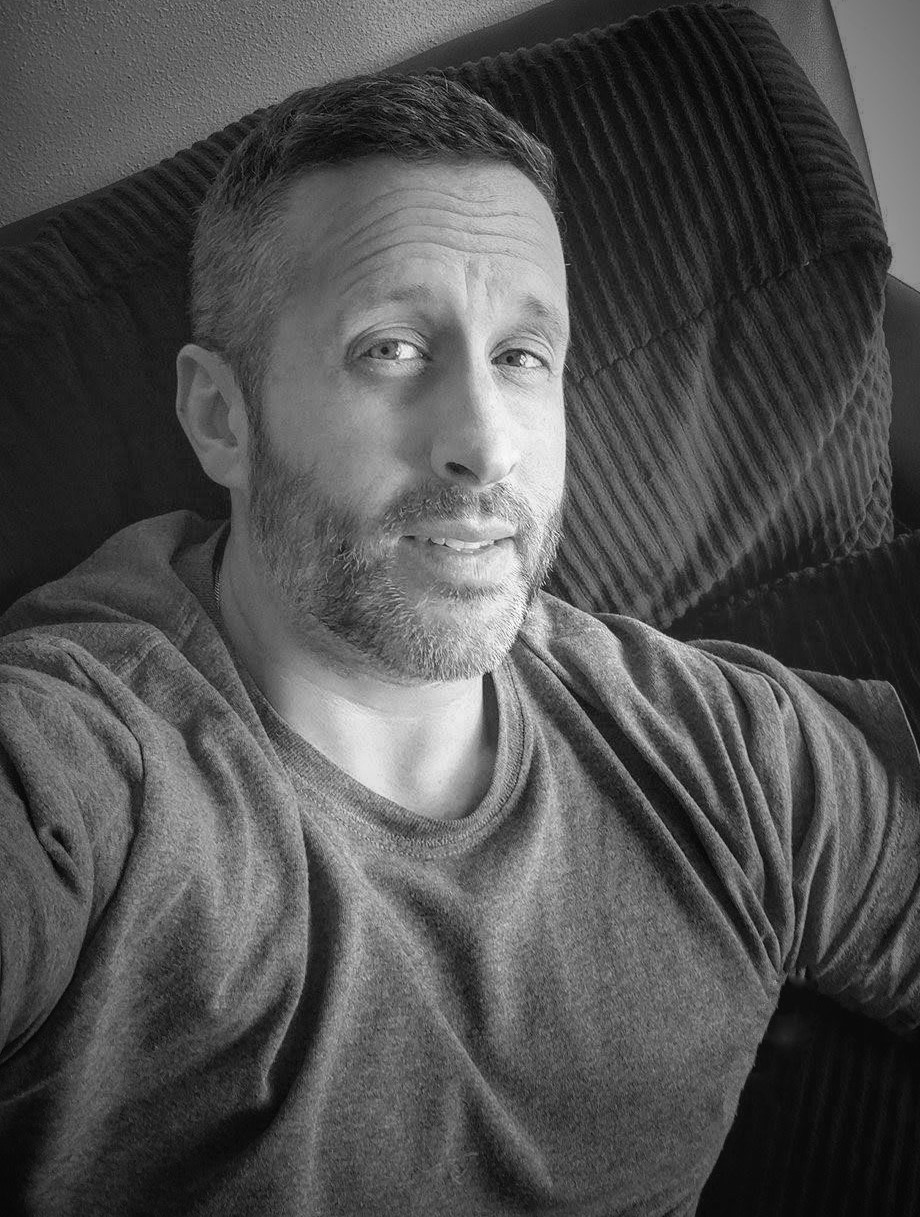 "I am really enjoying Aleksi's courses ("Speak Finnish Like a Boss" and "Basics of Spoken Finnish") and his YouTube videos.
I've been fascinated with the Finnish language for many years and I have finally decided to truly apply myself to becoming fluent in Finnish. Thanks to Aleksi, I now have a basis for conversing with Finnish speakers and the encouragement to continue my language learning journey."
Thomas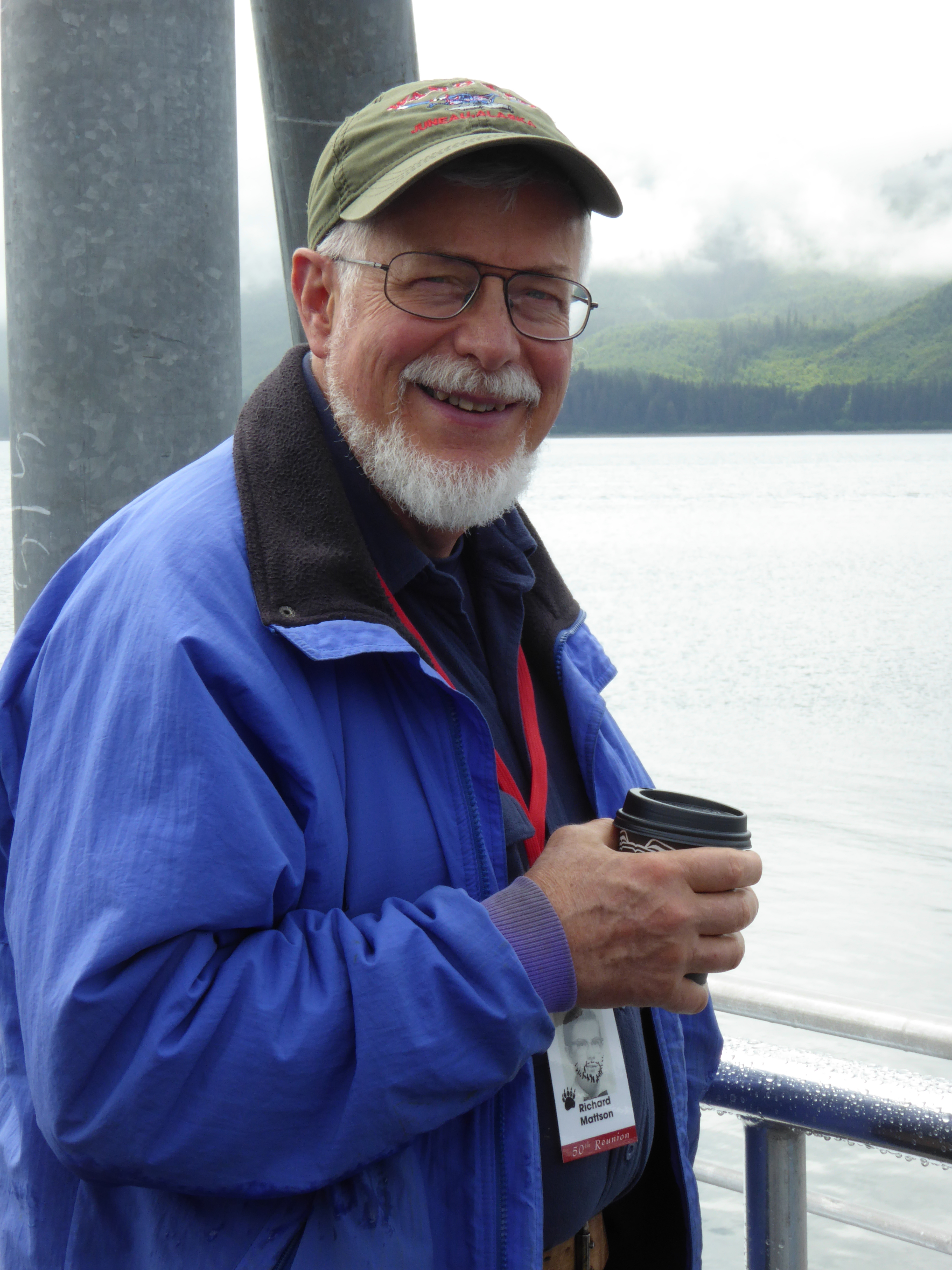 "As a slow and older learner of Finnish, I think this has been the best short course yet. He gets right to the point for each lesson, which covers the most important subjects for a beginner to learn and get comfortable in actually speaking Finnish. His explanations and notes are very clear and comprehensive, and his approach is very positive, encouraging, and just fun to watch and learn. He also responds very quickly to any questions asked and feedback given, making me feel like I have a real friend in him as well. I do hope to see him sometime when I get over to Suomi again. I highly recommend him and his course!
Rich Mattson
Course Curriculum
Introduction
Available in days
days after you enroll
Module 0: Helpful Tools to Tackle the Finnish Cases
Available in days
days after you enroll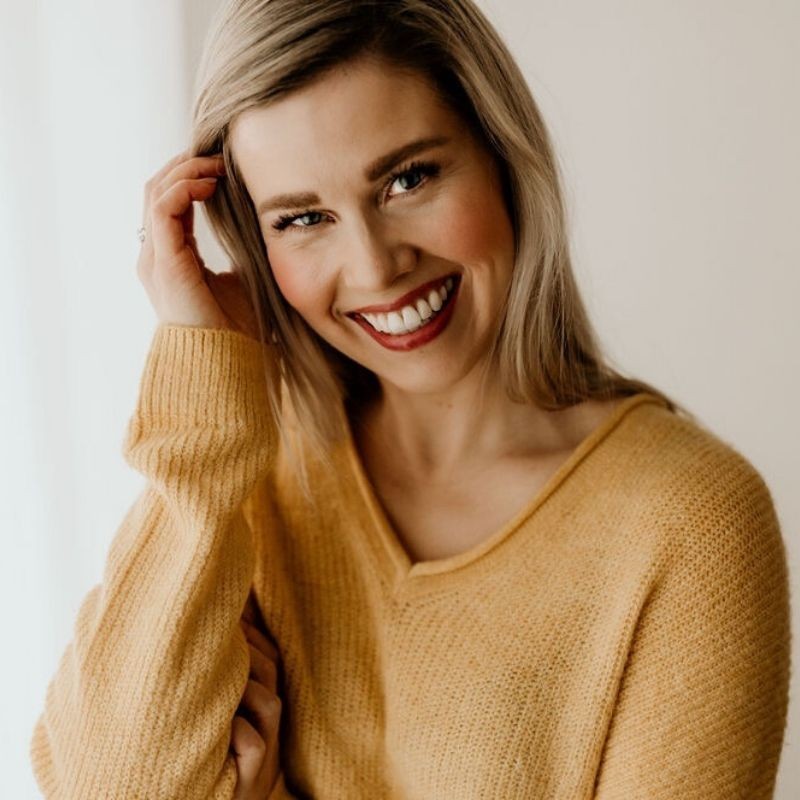 "If you're struggling with the tenses and verbs in Finnish, look no further, this is the course for you! Aleksi explains them in a fun way and with examples that totally made me laugh.
Most importantly, after this course, you'll know how to combine grammar WITH spoken Finnish (you know, because nobody talks standard Finnish in real-life Finland). This is the best course to elevate your newly-found conversational Finnish skills!"
Varpu, Founder of HerFinland.com
"I have found both of Aleksi's Finnish courses, "Speak Finnish Like a Boss" and "Basics of Spoken Finnish," helpful and easy to work with. He presents materials systematically, in digestible bites, with enough explanation to be helpful without drowning students in complicated details that are not yet important. I have looked at numerous apps and books, and Aleksi has the most thorough and direct instruction on spoken Finnish I have found. The content is useful. Aleksi's YouTube videos (Aleksi Himself) make great supplements for vocabulary and expressions. His enthusiasm and humor make it fun to learn Finnish with Aleksi."
- Dr. William J Prather, Second and foreign language educator and Finnish language learner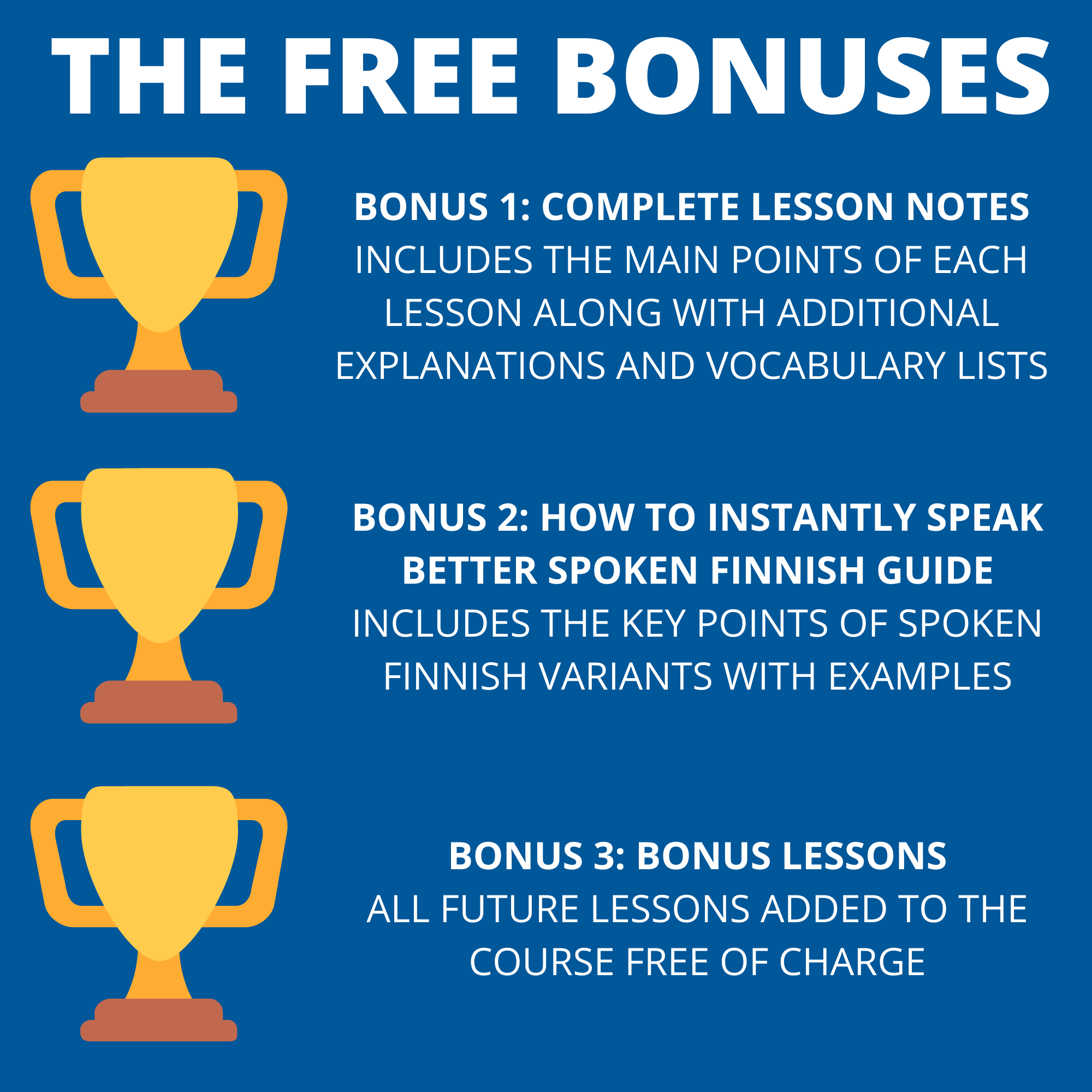 Frequently Asked Questions
How long do I have access to the course?
You will have a lifetime access to the course after you've bought it.
Is this a monthly payment?
No it's not. It's a one-time fee and you will get a lifetime access with it. Talk about a good deal for you!.
Who is this course aimed for?
This course is perfect for beginners who have already learned basic of Finnish and who want to improve their spoken Finnish.

Why should I pay for this course? Can't I just use the free resources to learn?
Of course you can and you should too. However, I have taken my time to gather all the necessary, useful and practical things and wrapped them up into this course. You don't have to spend time looking around and wondering whether it will be useful. I have done it for you.

What if this course sucks?
I bet this course will be helpful to your Finnish skills. However, if you still disagree, I have a 30 day money back guarantee. If you ask for a refund within 30 days, you'll get your money back. No questions asked.

In what currency do I have to pay? I don't have dollars in bank account.
No worries. The course price is in US dollars but you can easily pay with your credit/debit card or PayPal. They will do the currency conversion for you.
How much are the taxes? Why Is it added to price?
If you are inside and European Union (EU) country, the checkout will automatically identify if and how much you need to pay taxes. In EU a Value Added Tax (VAT) of the buyer's country is added to the price. Because there are students all over the world taking this course and the tax is determined individually, the final price will be automatically calculated at the checkout.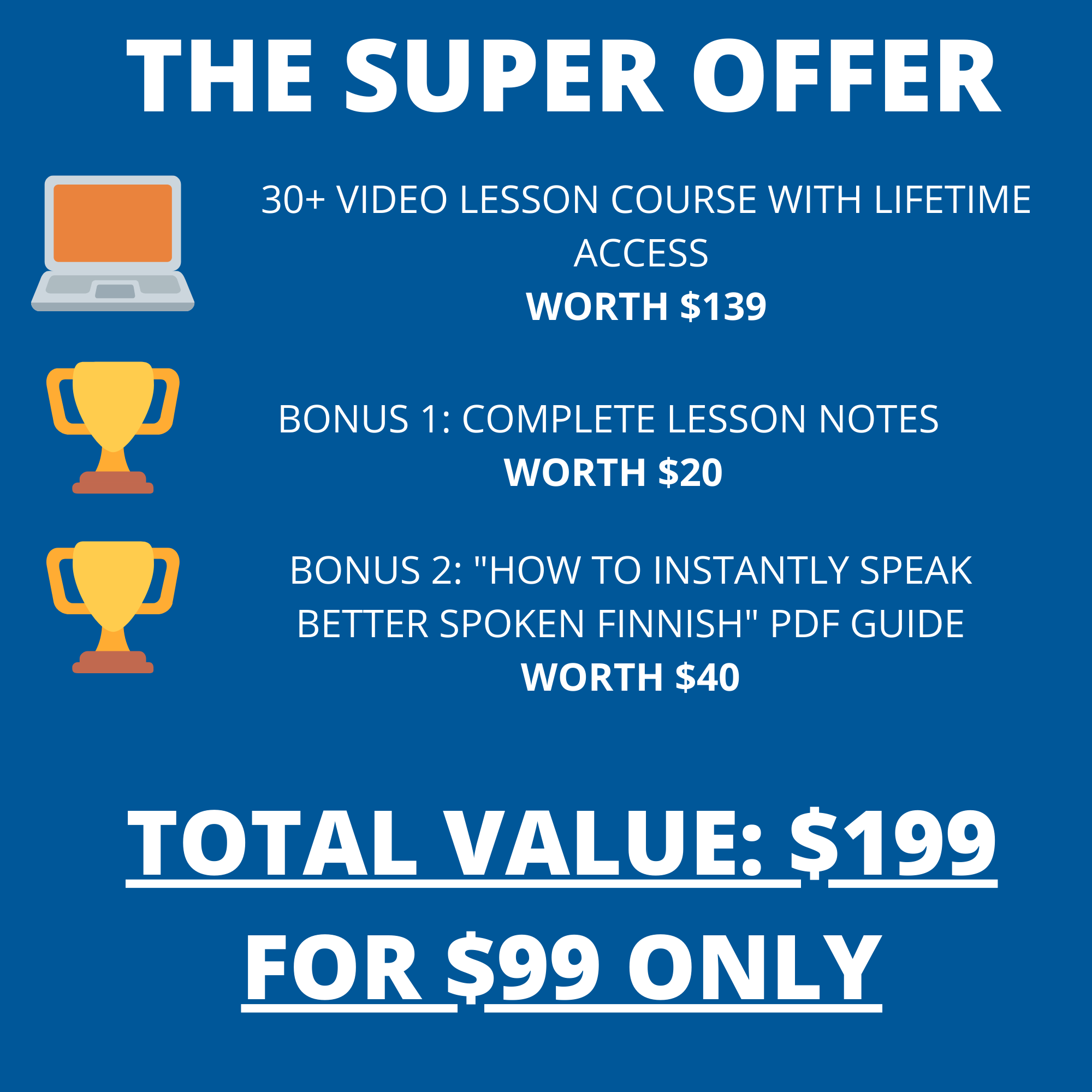 Your Instructor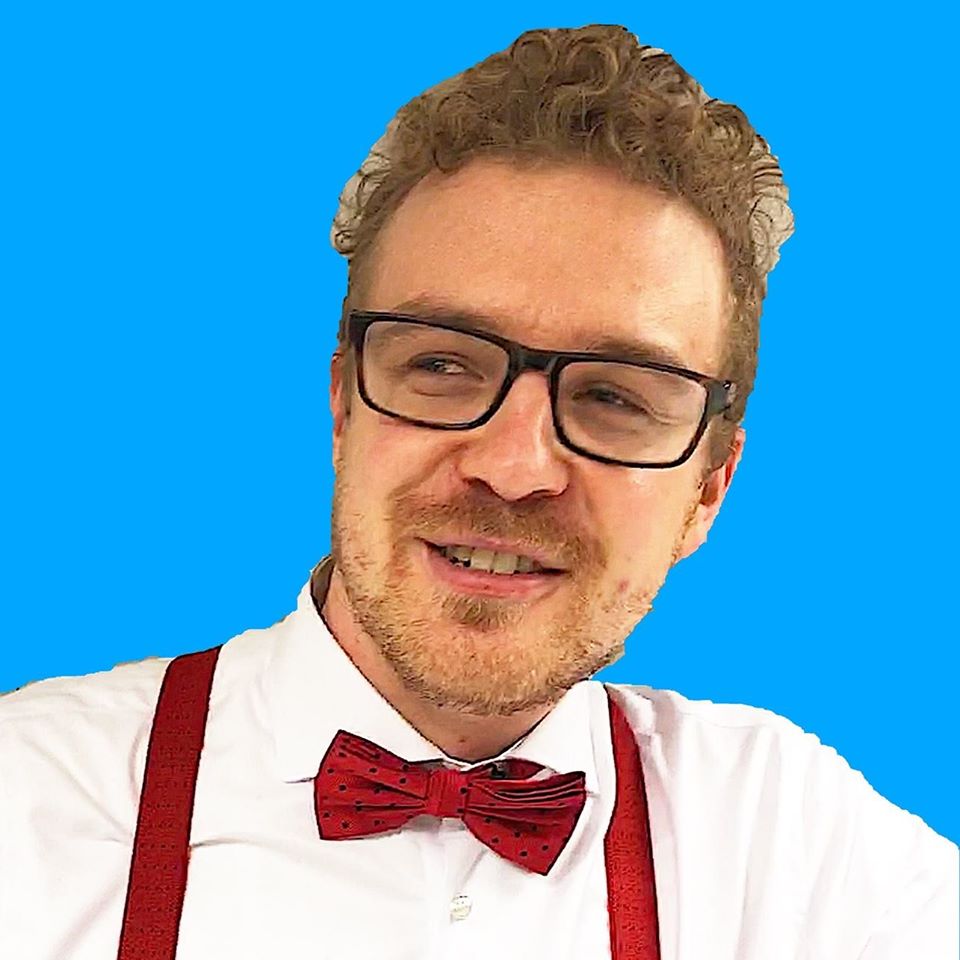 Moro!
I'm Aleksi, M. Sc in tech and the Finnish dude behind the YouTube channel Aleksi Himself - Videos about Finland, which is the #1 YouTube channel about Finnish Language, Lifestyle and Culture. My goal is to teach you cool stuff about Finland in practical yet entertaining way. The YouTube channel has more than 3 million views and more than 30 000 subscribers.
I love helping out people learning about Finland and Finnishness. I have learned four foreign languages and how to learn a language effectively while having fun at it! I want to pass this way to learn & mentality over to you while you are learning Finnish so you can have fun while making progress without getting stuck at the complex grammar.